The History of slate and its use as a roofing material introduction.
---
The use of slate as a roofing material dates back to the late twelve and thirteen hundreds. Slate was used for roofing the eight towers of Conwy Castle between 1283-87. By the late 1700's Welsh slate quarries were exporting over 450,000 tons of slate.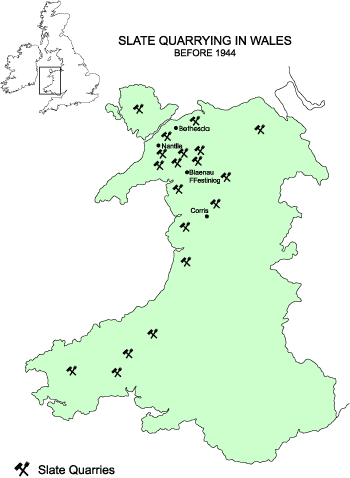 In 1839 slate deposits were found near Fair Haven, Vermont, however, but quarrying was found impractical and uses for slate were few. By the mid -1840s things changed. A barn one mile south of Fair Haven was the first to be covered with slate in 1848. It was feared the barn would not withstand the weight of the stone, however, it is still standing today with the same slate roof. In 1850, Welsh immigrants arrived in Fair Haven, and in 1852 thirty some Welsh settlers arrived in Middle Granville and several slate companies were founded. The largest inital problem was the transportation of the quarried slate. To solve the problem, the Rutland and Washington Railroad, which had started in 1845, extended its lines to Poultney, VT and later to Salem, NY and Eagle Bridge, NY. This enabled the industry to continue to expand.
The slate quarried in Vermont and New York contains a chemical and mineral composition within the vein of slate that produces a rare variety of colors – green, gray, gray black, purple, mottled green and purple, and red. This is the only place in the world where this variety of colors can be found.
The History of slate and its use as a roofing material links and resources.
(links open in a new window!)
---

History of Quarrying - Before the Industrial Revolution in the ...
The History of Quarrying ... The use of slate in the area goes back to the Roman period. The fort at Segontium, (Caernarfon), originally had tiled roofs, ...(llechicymru.info)

The Repair, Replacement & Maintenance of Historic Slate Roofs
Slate is one of the most aesthetically pleasing and durable of all roofing materials. It is indicative at once of the awesome powers of nature which have formed it and the expertise and skill of the craftsman in handshaping and laying it on the roof...(nps.gov)

Welsh Slate Quarries
the Slate industry of North and Mid Wales. ... A brief history of the slate industry ... Next page: A brief history of the industry. Back to the index ...(penmorfa.com)

North Wales Slate Introduction
Formation, Physical Properties and Uses of Slate. A History of Slate with a particular emphasis on the Quarrying and Mining of Slate in North Wales ...(hominf.org)

National Museum Wales
National Slate Museum ... 2 Oct 2007. (St Fagans: National History Museum). World-class archers target Welsh location 6 Sep 2007 ...(museumwales.ac.uk)

Slate Valley Museum
Slate Valley Museum 17 Water St. Granville, NY 12832. Men Working in Slate Quarry, oil on canvas, Martha Levy, 1939, Works Progress Administration/Federal ...(slatevalleymuseum.org)